Chair/ Panelist: Dr Monique Mann, School of Justice, Queensland University of Technology
Title: Biometrics, Crime and Security: Facial recognition, behavioral profiling and deception detection at the border
Abstract: Each and every person confronted with international travel will face the prospect of his or her biometric information being collected either via CCTV, an e-Smart Gate or a fingerprint scanner. The International Civil Aviation Organisation (ICAO) has selected facial recognition as the global standard for interoperable biometric passports and there have been moves in Australia towards passport free travel requiring travellers to present only their face at border control. Instead of comparing a face with a facial template stored in an ePassport, the face would be compared against a facial template stored within the Australian Passport Office's database.
Looking internationally there has been a steady expansion of the use of face recognition technology for border control. In the UK British Airways uses facial recognition scanning at security screening enabling travellers to board planes without the requirement of showing identification documentation. US Customs and Border Protection have been using facial recognition since 2015, with trials expanding initially from Washington to New York airports. More recently there have been proposals for US Customs and Border Protection agents to use drones equipped with facial recognition technology to monitor the border with Mexico. There have been suggestions that US Customs and Border Protection will commence a program known as 'Biometric Exit' that scans the faces of individuals departing the US to verify who has left the US, and therefore be able to identify those who overstay their visas.
New technologies are being developed that combine facial recognition with emotion recognition and other second-generation biometrics to identify threats and detect deception. Police have historically used the polygraph for lie detection, however a modern alternative is evolving in the form of the Automated Virtual Agent for Truth Assessments in Real-Time (AVATAR), currently being developed by the University of Arizona and US Customs and Border Protection. Further, the US Department of Homeland Security is developing Future Attribute Screening Technology (FAST) where an automated robotic interviewer asks questions while assessing biometric information such as facial expressions, voice intonation and inflection to detect deception. A combination of this technology with predictive questioning and access to large and ever expanding databases enables robot-enhanced interrogation at the border.
These automated systems of identification and deception detection have the potential to remove humans from decision-making processes associated with border control. There are a number of concerns about the implementation these technologies, particularly in light of the significant expansion in the collection and storage of personal data coupled with diminishing opportunities for individuals to opt out, and little, if any, limits on data collection and use by border control agents. There are further concerns about an individual's right to silence, privilege not to self-incriminate and the parameters of legitimate search. This paper foreshadows emerging developments that concern the use of biometrics at the border and in doing so considers associated regulatory prospects and protections.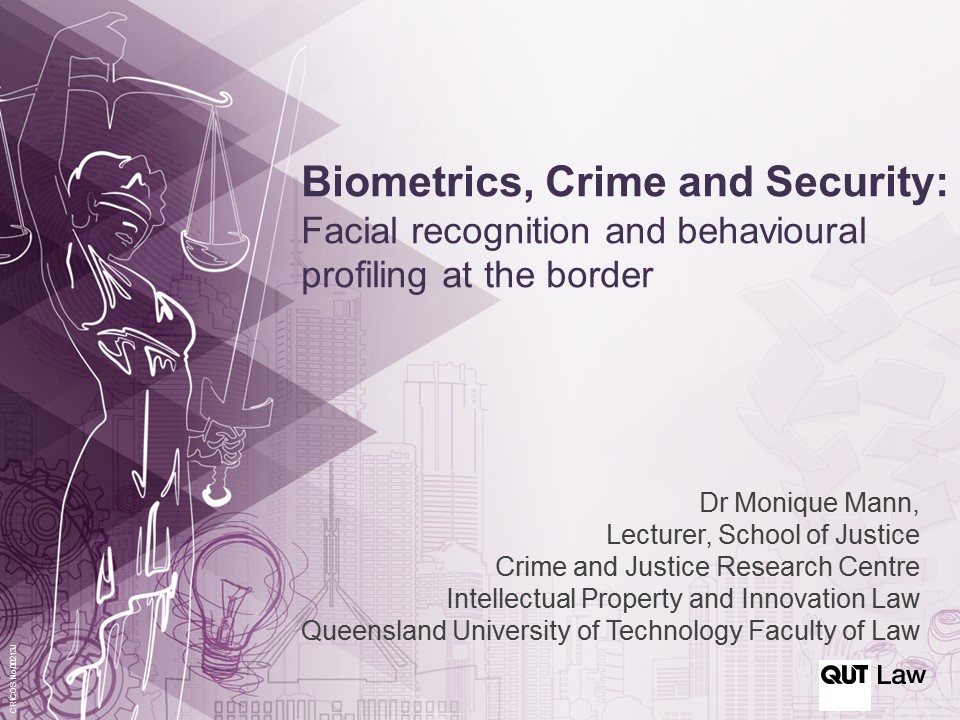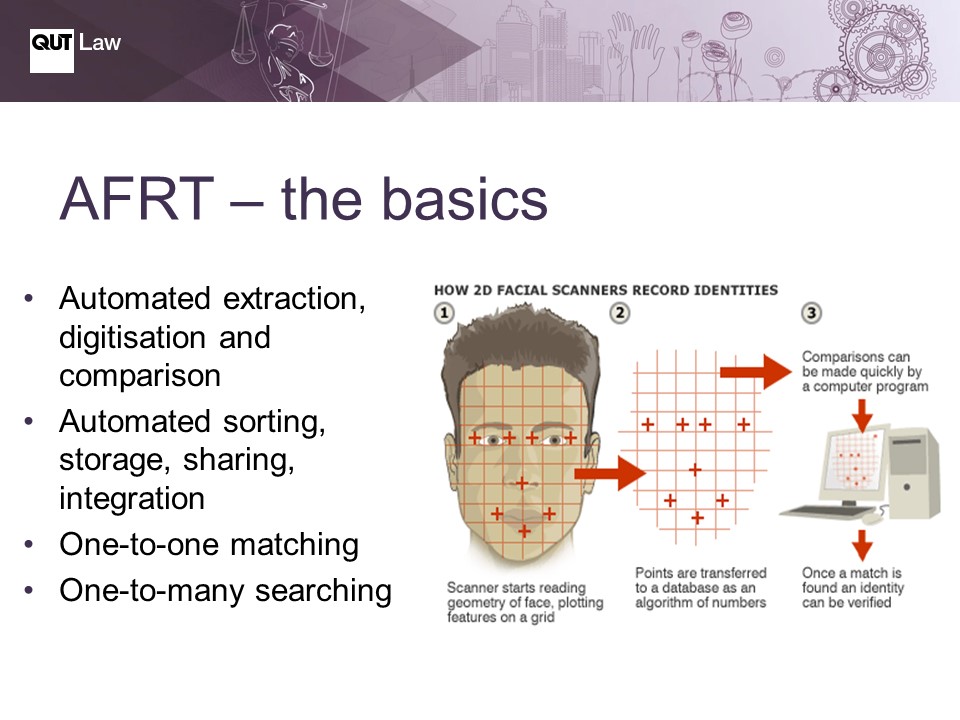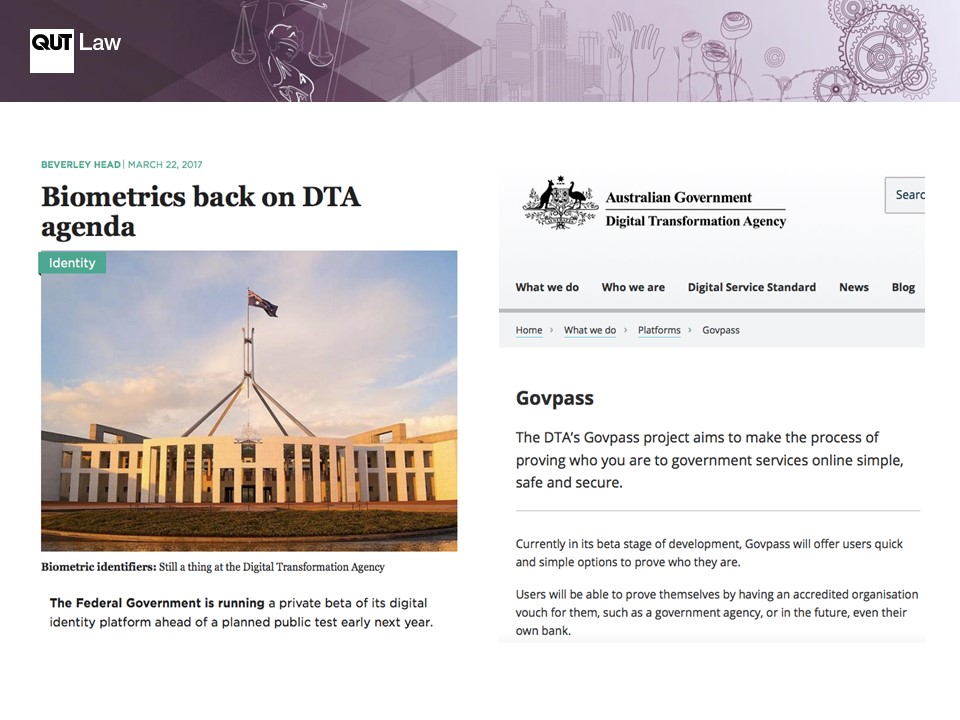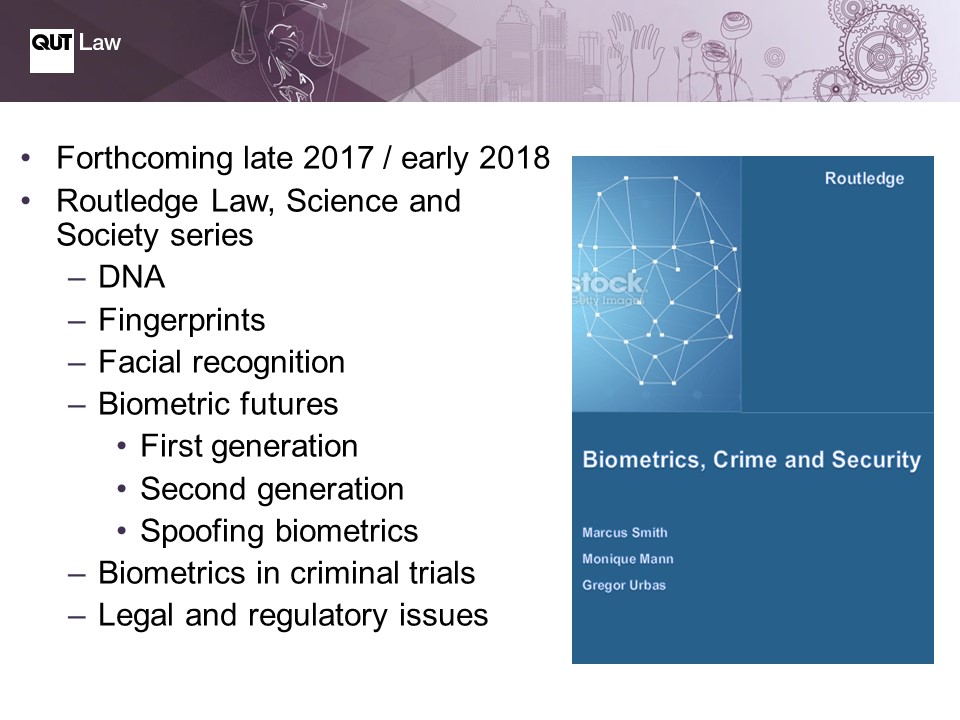 Biography: Dr Monique Mann is a lecturer at the School of Justice, Faculty of Law, at the Queensland University of Technology in Brisbane, Australia. She is also a member of the Crime and Justice Research Centre and the Intellectual Property and Innovation Law Research Group at QUT Law. Monique is currently advancing a program of socio-legal research on the intersecting topics of police technology, transnational online policing and surveillance. She is on the Board of Directors of the Australian Privacy Foundation and the Advisory Council of Digital Rights Watch Australia