Participants in each session will be divided into four specific topics of increasing importance as we move into the next 15+ years, namely Demographics & Population Change, AI and Automation, The Economic Landscape and Urbanisation.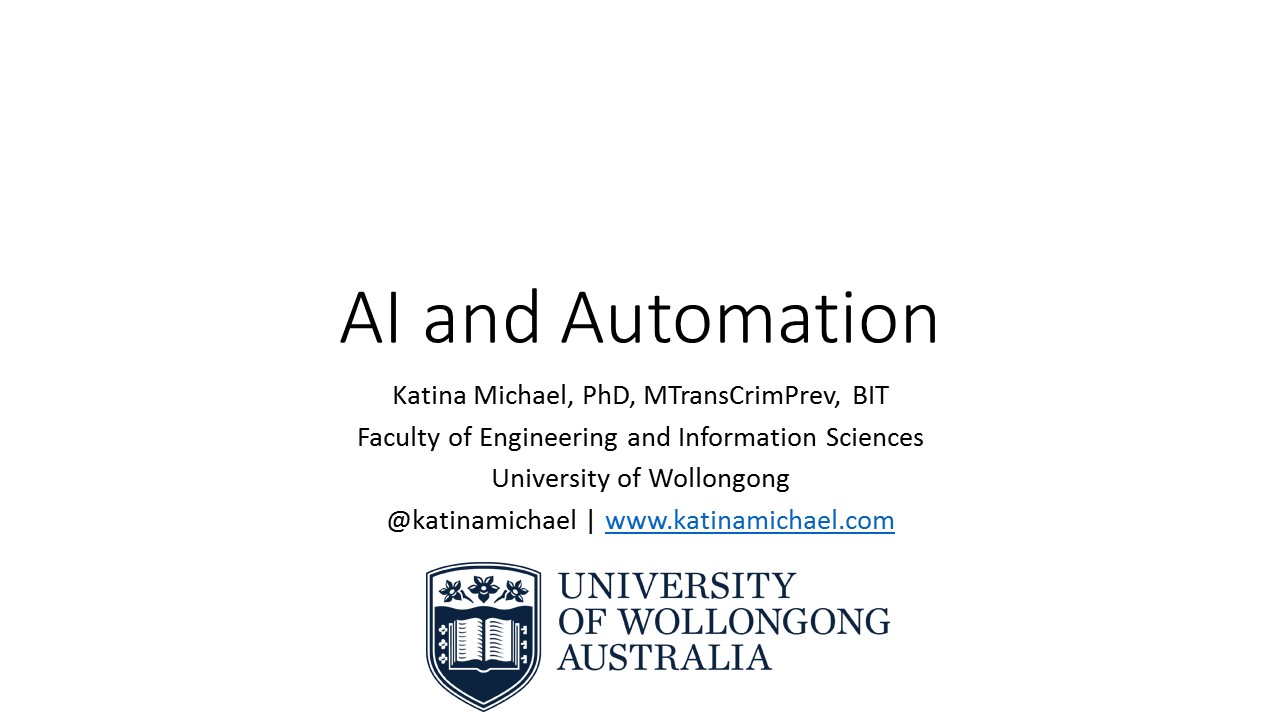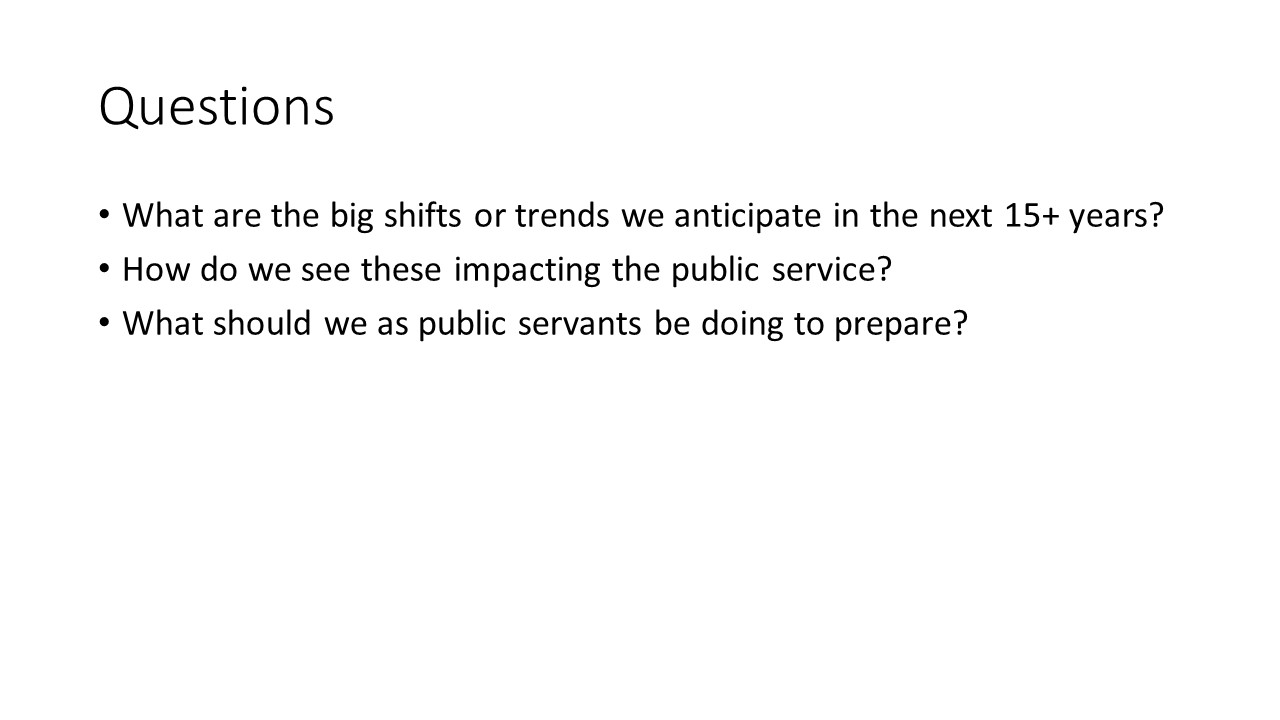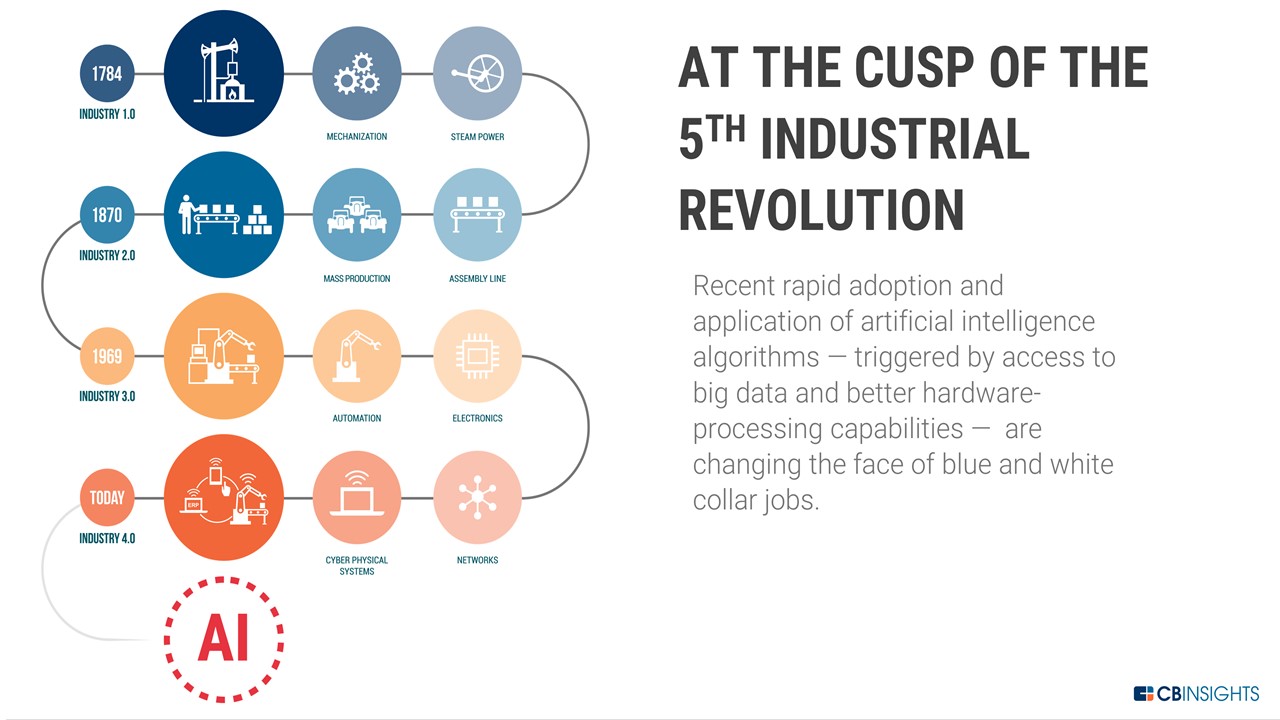 In particular, the participants will focus on three main questions:
- What are the big shifts or trends we anticipate in the next 15+ years?
- How do we see these impacting the public service?
- What should we as public servants be doing to prepare?
Four Thematic Pillars (Examples Only)
1. Automation, Warehouses, Fulfillment
2. Health, Medical and Well-Being
3. Law Enforcement, Surveillance and Monitoring, Social Media, Body Wearables, Audio-Visual Analytics
4. Personal Communications, Translation, Digital Chronicling, Personas
My contribution will be under the topic – AI and Automation with respect to Demographics & Population Changes.
Biography: Katina Michael is a Professor in the Faculty of Engineering and Information Sciences at the University of Wollongong, Australia. She is the editor-in-chief of IEEE Technology and Society Magazine and Senior Editor of IEEE Consumer Electronics Magazine. She has been a recipient of telecommunications-centric grants on location services policy, and has been the convener of the annual social implications of national security workshop since the beginning of the series in 2006 with the Research Network for a Secure Australia (RNSA). Katina has consulted for government agencies and defence organisations, such as Prime Minister and Cabinet, Booz Allen, the Commissioner for Law Enforcement Data Security and the Defence Science Technology Office (DSTO). She is a board member of the Australian Privacy Foundation (APF) and has previously been an active member of the Consumer Federation of Australia (CFA) Previously Katina worked for one of the world's largest telecommunications vendors with secondments throughout Asia and North America. Katina's PhD was in automatic identification, she has a Masters of Transnational Crime Prevention from the Faculty of Law at UOW, and she completed her Bachelors of IT in the cooperative program at the University of Technology, Sydney with semester employment at Andersen Consulting, and United Technologies.
Stimulus Material
The BBC has some very good resources on the defining moments of AI. Here they are:
1943: WW2 triggers fresh thinking. World War Two brought together scientists from many disciplines, including the emerging fields of neuroscience and computing. In Britain, mathematician Alan Turing and neurologist Grey Walter were two of the bright minds who tackled the challenges of intelligent machines.
1950: Science fiction steers the conversation. See Isaac Asimov explain his Three Laws of Robotics to prevent intelligent machines from turning evil. In 1950, I Robot was published – a collection of short stories by science fiction writer Isaac Asimov.
1956: A top-down approach. The term 'artificial intelligence' was coined for a summer conference at Dartmouth University, organised by a young computer scientist, John McCarthy. Top scientists debated how to tackle AI. Some, like influential academic Marvin Minsky, favoured a top-down approach: pre-programming a computer with the rules that govern human behaviour. Others preferred a bottom-up approach, such as neural networks that simulated brain cells and learned new behaviours. Over time Minsky's views dominated, and together with McCarthy he won substantial funding from the US government, who hoped AI might give them the upper hand in the Cold War.
1968: 2001: A Space Odyssey – imagining where AI could lead. Minsky influenced science fiction too. He advised Stanley Kubrick on the film 2001: A Space Odyssey, featuring an intelligent computer, HAL 9000.
1969: A tough problem to crack. AI was lagging far behind the lofty predictions made by advocates like Minsky – something made apparent by Shakey the Robot. Shakey was the first general-purpose mobile robot able to make decisions about its own actions by reasoning about its surroundings. It built a spatial map of what it saw, before moving. But it was painfully slow, even in an area with few obstacles. Each time it nudged forward, Shakey would have to update its map. A moving object in its field of view could easily bewilder it, sometimes stopping it in its tracks for an hour while it planned its next move.
1973: The AI Winter. By the early 1970s AI was in trouble. Millions had been spent, with little to show for it. There was strong criticism from the US Congress and, in 1973, leading mathematician Professor Sir James Lighthill gave a damning health report on the state of AI in the UK. His view was that machines would only ever be capable of an "experienced amateur" level of chess. Common sense reasoning and supposedly simple tasks like face recognition would always be beyond their capability. Funding for the industry was slashed, ushering in what became known as the AI winter.
1981: A solution for big business. The moment that historians pinpoint as the end of the AI winter was when AI's commercial value started to be realised, attracting new investment. The new commercial systems were far less ambitious than early AI. Instead of trying to create a general intelligence, these 'expert systems' focused on much narrower tasks. That meant they only needed to be programmed with the rules of a very particular problem. The first successful commercial expert system, known as the RI, began operation at the Digital Equipment Corporation helping configure orders for new computer systems. By 1986 it was saving the company an estimated $40m a year.
1990: Back to nature for bottom-up inspiration. Expert systems couldn't crack the problem of imitating biology. Then AI scientist Rodney Brooks published a new paper: Elephants Don't Play Chess. Brooks was inspired by advances in neuroscience, which had started to explain the mysteries of human cognition. Vision, for example, needed different 'modules' in the brain to work together to recognise patterns, with no central control. Brooks argued that the top-down approach of pre-programming a computer with the rules of intelligent behaviour was wrong. He helped drive a revival of the bottom-up approach to AI, including the long unfashionable field of neural networks.
1997: Man vs Machine. Supporters of top-down AI still had their champions: supercomputers like Deep Blue, which in 1997 took on world chess champion Garry Kasparov. The IBM-built machine was, on paper, far superior to Kasparov - capable of evaluating up to 200 million positions a second. But could it think strategically? The answer was a resounding yes. The supercomputer won the contest, dubbed 'the brain's last stand', with such flair that Kasparov believed a human being had to be behind the controls. Some hailed this as the moment that AI came of age. But for others, this simply showed brute force at work on a highly specialised problem with clear rules.
2002: The First Robot for the Home. Rodney Brook's spin-off company, iRobot, created the first commercially successful robot for the home – an autonomous vacuum cleaner called Roomba. Cleaning the carpet was a far cry from the early AI pioneers' ambitions. But Roomba was a big achievement. Its few layers of behaviour-generating systems were far simpler than Shakey the Robot's algorithms, and were more like Grey Walter's robots over half a century before. Despite relatively simple sensors and minimal processing power, the device had enough intelligence to reliably and efficiently clean a home. Roomba ushered in a new era of autonomous robots, focused on specific tasks.
2005. War Machines. Having seen their dreams of AI in the Cold War come to nothing, the US military was now getting back on board with this new approach. They began to invest in autonomous robots. BigDog, made by Boston Dynamics, was one of the first. Built to serve as a robotic pack animal in terrain too rough for conventional vehicles, it has never actually seen active service. iRobot also became a big player in this field. Their bomb disposal robot, PackBot, marries user control with intelligent capabilities such as explosives sniffing. Over 2000 PackBots have been deployed in Iraq and Afghanistan.
2008: Starting to crack the big problems. In November 2008, a small feature appeared on the new Apple iPhone – a Google app with speech recognition. It seemed simple. But this heralded a major breakthrough. Despite speech recognition being one of AI's key goals, decades of investment had never lifted it above 80% accuracy. Google pioneered a new approach: thousands of powerful computers, running parallel neural networks, learning to spot patterns in the vast volumes of data streaming in from Google's many users. At first it was still fairly inaccurate but, after years of learning and improvements, Google now claims it is 92% accurate.
2010: Dance Bots. At the same time as massive mainframes were changing the way AI was done, new technology meant smaller computers could also pack a bigger punch. These new computers enabled humanoid robots, like the NAO robot, which could do things predecessors like Shakey had found almost impossible.

2011: Man vs Machine (Watson). In 2011, IBM's Watson took on the human brain on US quiz show Jeopardy. This was a far greater challenge for the machine than chess. Watson had to answer riddles and complex questions. Its makers used a myriad of AI techniques, including neural networks, and trained the machine for more than three years to recognise patterns in questions and answers. Watson trounced its opposition – the two best performers of all time on the show. The victory went viral and was hailed as a triumph for AI.

2014: Are machines intelligent now? Sixty-four years after Turing published his idea of a test that would prove machine intelligence, a chatbot called Eugene Goostman finally passed. But very few AI experts saw this a watershed moment. Eugene Goostman was seen as 'taught for the test', using tricks to fool the judges. It was other developments in 2014 that really showed how far AI had come in 70 years. From Google's billion dollar investment in driverless cars, to Skype's launch of real-time voice translation, intelligent machines were now becoming an everyday reality that would change all of our lives.
"Computers have been over-sold. Understandably enough as they are very big business indeed. It's common knowledge that some firms bought computers in the expectation of benefits which failed to materialise. My concern tonight however is with the over-selling of the longer term future of computers. The scientific community has a heavy responsibility to put forward the facts to avoid the public being seriously mislead. Just as the US National Academy of Sciences did in 1966 when it reported that enormous sums of money had been spent on the aim of language translation by computer with very little useful result, a conclusion not subsequently shaken. Failures continually occurred also in computer recognition of human speech, or handwritten letters and in automatic proving of theorems in higher mathematics."
Roy Amara has said in contrast:
"We tend to overestimate the effect of a technology in the short run and underestimate the effect in the long run."
"Dave this conversation can serve no purpose anymore. Goodbye." (Voice of HAL9000)
"I can see you're really upset about this. I honestly think you've got to sit down calmly, take a stress pill, and think things over. I know I've made some very poor decisions recently, but I can give you my complete assurance that my work will be back to normal. I've still got the greatest enthusiasm and confidence in the mission." (Voice of HAL9000)
It is amazing to watch a professional game of chess. The first moves happen so quickly that the human eye watching can barely keep up and 'compute' mentally. A sure visualisation of a computer making a move metaphorically would see every possible future step played out before moving within a few split seconds if not less, impossible to denote via the naked eye.
Kasparov says: "...you said is it for better or worse? It's happening period. The technology is neither good nor bad, it's agnostic. You know you can do many great things with your mobile phone but you can also create a terrorist network so it says it's happening and we just have to adjust."
"[Context: Human and computer vs machine]. I can tell you the quality was not very high because it was limited amount of time and it was so new for us how to use the machine. Eventually I realized- we had many events the so-called freestyle events on the internet that proved, and it could sound quite ironic but you don't need a very strong player to get the best result of human plus machine combination. It could sound like a heresy now but I would say that you don't want a strong player it's you need a good operator ignition, and a decent player."
Who is https://www.partnershiponai.org/?
Overestimating and underestimating
Imagining Magic: See here Arthur C. Clarke's three laws:
When a distinguished but elderly scientist states that something is possible, he is almost certainly right. When he states that something is impossible, he is very probably wrong.
The only way of discovering the limits of the possible is to venture a little way past them into the impossible.
Any sufficiently advanced technology is indistinguishable from magic.
Performance vs competence
People hear that some robot or some AI system has performed some task. They then generalize from that performance to a competence that a person performing the same task could be expected to have. And they apply that generalization to the robot or AI system.
Today's robots and AI systems are incredibly narrow in what they can do. Human-style generalizations do not apply.
Suitcase Words
When people hear that machine learning is making great strides in some new domain, they tend to use as a mental model the way in which a person would learn that new domain. However, machine learning is very brittle, and it requires lots of preparation by human researchers or engineers, special-purpose coding, special-purpose sets of training data, and a custom learning structure for each new problem domain. Today's machine learning is not at all the sponge-like learning that humans engage in, making rapid progress in a new domain without having to be surgically altered or purpose-built.
Likewise, when people hear that a computer can beat the world chess champion (in 1997) or one of the world's best Go players (in 2016), they tend to think that it is "playing" the game just as a human would. Of course, in reality those programs had no idea what a game actually was, or even that they were playing. They were also much less adaptable. When humans play a game, a small change in rules does not throw them off. Not so for AlphaGo or Deep Blue.
Exponentials
When people are suffering from exponentialism, they may think that the exponentials they use to justify an argument are going to continue apace. But Moore's Law and other seemingly exponential laws can fail because they were not truly exponential in the first place.
Hollywood Scenarios
It turns out that many AI researchers and AI pundits, especially those pessimists who indulge in predictions about AI getting out of control and killing people, are similarly imagination-challenged. They ignore the fact that if we are able to eventually build such smart devices, the world will have changed significantly by then. We will not suddenly be surprised by the existence of such super-intelligences.
Speed of deployment
A lot of AI researchers and pundits imagine that the world is already digital, and that simply introducing new AI systems will immediately trickle down to operational changes in the field, in the supply chain, on the factory floor, in the design of products.
Nothing could be further from the truth. Almost all innovations in robotics and AI take far, far, longer to be really widely deployed than people in the field and outside the field imagine.
1. SAFETY CRITICAL AI
Advances in AI have the potential to improve outcomes, enhance quality, and reduce costs in such safety-critical areas as healthcare and transportation. Effective and careful applications of pattern recognition, automated decision making, and robotic systems show promise for enhancing the quality of life and preventing thousands of needless deaths.
However, where AI tools are used to supplement or replace human decision-making, we must be sure that they are safe, trustworthy, and aligned with the ethics and preferences of people who are influenced by their actions.
We will pursue studies and best practices around the fielding of AI in safety-critical application areas.
2. FAIR, TRANSPARENT, AND ACCOUNTABLE AI
AI has the potential to provide societal value by recognizing patterns and drawing inferences from large amounts of data. Data can be harnessed to develop useful diagnostic systems and recommendation engines, and to support people in making breakthroughs in such areas as biomedicine, public health, safety, criminal justice, education, and sustainability.
While such results promise to provide great value, we need to be sensitive to the possibility that there are hidden assumptions and biases in data, and therefore in the systems built from that data. This can lead to actions and recommendations that replicate those biases, and suffer from serious blindspots.
Researchers, officials, and the public should be sensitive to these possibilities and we should seek to develop methods that detect and correct those errors and biases, not replicate them. We also need to work to develop systems that can explain the rationale for inferences.
We will pursue opportunities to develop best practices around the development and fielding of fair, explainable, and accountable AI systems.
3. COLLABORATIONS BETWEEN PEOPLE AND AI SYSTEMS
A promising area of AI is the design of systems that augment the perception, cognition, and problem-solving abilities of people. Examples include the use of AI technologies to help physicians make more timely and accurate diagnoses and assistance provided to drivers of cars to help them to avoid dangerous situations and crashes.
Opportunities for R&D and for the development of best practices on AI-human collaboration include methods that provide people with clarity about the understandings and confidence that AI systems have about situations, means for coordinating human and AI contributions to problem solving, and enabling AI systems to work with people to resolve uncertainties about human goals.
4. AI, LABOR, AND THE ECONOMY
AI advances will undoubtedly have multiple influences on the distribution of jobs and nature of work. While advances promise to inject great value into the economy, they can also be the source of disruptions as new kinds of work are created and other types of work become less needed due to automation.
Discussions are rising on the best approaches to minimizing potential disruptions, making sure that the fruits of AI advances are widely shared and competition and innovation is encouraged and not stifled. We seek to study and understand best paths forward, and play a role in this discussion.
5. SOCIAL AND SOCIETAL INFLUENCES OF AI
AI advances will touch people and society in numerous ways, including potential influences on privacy, democracy, criminal justice, and human rights. For example, while technologies that personalize information and that assist people with recommendations can provide people with valuable assistance, they could also inadvertently or deliberately manipulate people and influence opinions.
We seek to promote thoughtful collaboration and open dialogue about the potential subtle and salient influences of AI on people and society.
6. AI AND SOCIAL GOOD
AI offers great potential for promoting the public good, for example in the realms of education, housing, public health, and sustainability. We see great value in collaborating with public and private organizations, including academia, scientific societies, NGOs, social entrepreneurs, and interested private citizens to promote discussions and catalyze efforts to address society's most pressing challenges.
Some of these projects may address deep societal challenges and will be moonshots – ambitious big bets that could have far-reaching impacts. Others may be creative ideas that could quickly produce positive results by harnessing AI advances.
Over the next five years, this project will study the impact that genetics, environmental factors, daily habits and the human microbiome have on the cognition of older adults.
This collaborative research initiative will also use artificial intelligence (AI) systems to comb through massive amounts of data with the goal of promoting healthier living. We want caring for the older population to be not just palliative, but preventive. Rather than treating serious cognitive decline, we seek ways to stop it.
Automating a job can result in more of those jobs. Here's the theory explained:
Lower prices, which makes its products more appealing and creates an increased demand that may lead to the need for more workers.
Generate more profit or pay higher wages. That may lead to increased investment or increased consumption, which can also lead to more production, and thus, more employment.
Amazon offers a more modern example of this phenomena. The company has over the last three years increased the number of robots working in its warehouses from 1,400 to 45,000. Over the same period, the rate at which it hires workers hasn't changed.
Automation doesn't necessarily make humans obsolete
In 2013, researchers at Oxford sparked fear of the robot revolution when they estimated that almost half of US occupations were likely to be automated. But three years later, McKinsey arrived at a very different number. After analyzing 830 occupations, it concluded that just 5% of them could be completely automated.

The two studies obviously counted differently. The Oxford researchers assessed the probability that occupations would be fully automated within a decade or two. But automation is more likely to replace part of a job than an entire job. When Amazon installs warehouse robots, they currently don't replace full workers, but rather, the part of the job that involves fetching products from different shelves. Similarly, when my colleague used artificial intelligence to transcribe an interview, we didn't fire him; he just worked on the other parts of his job. McKinsey's researchers' model didn't attempt to sort jobs into "replaceable" and "not replaceable," but rather to place them on a spectrum of automation potential.
In the 1930s, economist John Maynard Keynes famously coined the term "technological unemployment." Less famous is the argument he was making at the time. His case wasn't that impending technology doomed society to prolonged massive unemployment, but rather that a reaction to new technology should neither assume the end of the world or refuse to recognize that world had changed. From his essay, Economic Possibilities For Our Grandchildren:
The prevailing world depression, the enormous anomaly of unemployment in a world full of wants, the disastrous mistakes we have made, blind us to what is going on under the surface to the true interpretation, of the trend of things. For I predict that both of the two opposed errors of pessimism which now make so much noise in the world will be proved wrong in our own time-the pessimism of the revolutionaries who think that things are so bad that nothing can save us but violent change, and the pessimism of the reactionaries who consider the balance of our economic and social life so precarious that we must risk no experiments.
Caption: So what's it going to be? Freedom or enslavement? Or more of the same old same old?
Important work being carried out at IEEE Global Initiative on Ethics of Autonomous and Intelligent Systems. More recent new standards projects in this space can be found here. A comprehensive discussion document for Ethically-Aligned Design can be found here.
Rebecca Herold of SIMBUS360 comments on the future of AI. In her reflection of this story she writes:
An exceedingly optimistic view of, and predication for, AI. The potential bad results for/from AI are just as great as the potential benefits. It all depends upon how the AI is engineered, implemented, and TESTED before implementation (I capitalized because I've seen a trend in the past 15 years for software and systems to NOT be tested enough before being put into production). • What ethical computing rules will be required and followed when creating these AI applications, systems and networks? Will ethical computing rules even be considered? Etc. • What types of security (data and physical) controls and rules will be implemented? Will there be any? Will they be appropriate? Adequate? Etc. • What types of privacy controls and rules will be implemented? How will they be determined? Will they truly support privacy? Etc.
Recommended Reading
https://www.technologyreview.com/s/609048/the-seven-deadly-sins-of-ai-predictions/